A new study published this year in the British Journal of sports medicine shows us that if you strengthen your muscles 30 to 60 minutes per week, you'll live longer.
https://bjsm.bmj.com/content/early/2022/01/19/bjsports-2021-105061
Make sure you are lifting heavy weight.
And this is not just any regular exercise. This is strength training. And in my mind, this is easier to do than aerobic training. All you have to do is pick up a weight, lift it, and drive your muscles to fatigue. You don't need to put on your bicycling cleats and hop on your bike and brave the elements. You don't need to purchase any fancy running shoes and run 5 miles. All you have to do is find some weights to lift.
I like the challenge of using kettle bells to strength train. Although, I have been using our local CrossFit gym to its fullest abilities to get my strength training in three times per week. SavUp CrossFit in Petaluma is where I go.
But honestly, to do the bare minimum of activity that you need to do to live longer, you just need to do bodyweight exercises. I like push-ups, Burpee's, and pull-ups. There are many variations that you can do. But if you wanna take another step further all you need to do is find some hand weights and a bench. Do some bench press with dumbbells and you will find yourself doing a concentrated chest exercise. It's very effective. Follow up with some curls and some bent over rows, and you have your upper body workout figured out. Just make sure you don't skip leg day.
Simple.
Many of the diseases that we die from are non-communicable diseases. The largest killer of Americans is cardiovascular disease, followed by cancer, followed by stroke. Diabetes is a huge issue in America. These are lifestyle diseases that can be reversed or prevented by working out regularly. This meta-analysis shows this that muscle strengthening activities will reduce all cause mortality. And it will reduce major noncommunicable diseases. This study shows us that lifting weights will reduce cardiovascular disease, total cancer, diabetes, and lung cancer.
But any kind of movement will be helpful. Just earlier today I found a picture showing what happens in the brain if you were sitting cemetery compared to when you go for a simple walk. Check this out: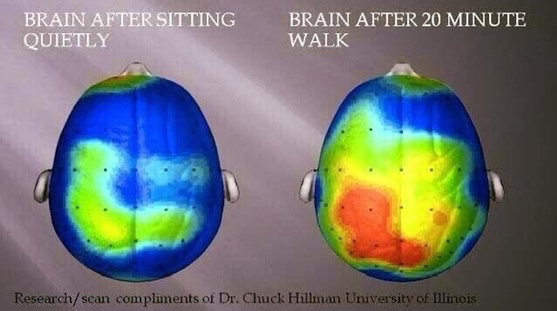 I think that picture showing blood flow and activity in the brain is a great motivation to get up and go for a walk several times today. What do you think?